CRC Activity -Insustrial Visit
"I never teach my pupils; I only attempt to provide the conditions in which they can learn." – Albert Einstein

This beautiful thought by Albert Einstein explains the importance of hands-on training in a very basic way. The concept of industrial visit is so beneficial to the students that it provides a deep understanding about the corporate world. In books, we read about ideas, thoughts and experiences of other men. The knowledge thus acquired is theoretical. To be successful in today`s life we need more than mere theoretical knowledge. We must also know about the work ethics, mannerism, habits and ways of living of the corporate world. We can learn about them by coming in contact with them through these industrial visits. These visits take us from the field of bookish knowledge to the field of practical knowledge; from the realm of imagination we come down to reality. While visiting an industry, a student begins to develop initiative and drive.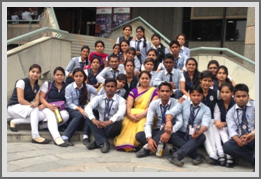 tZVFg==" crossorigin="anonymous" referrerpolicy="no-referrer">